Naperville Business owners, have you ever looked into a VoIP Phone System for your company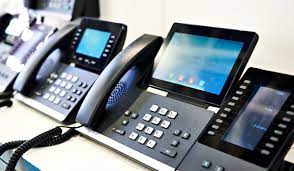 In the age of digital connectivity, VoIP phone system is a business communication cornerstone for a your overall success, and growth, and small businesses, just like their larger counterparts, need an efficient and cost-effective VoIP Phone System communication solution, that provides all the features necessary to compete in today's marketplace. Voice over Internet Protocol (VoIP) phone systems have emerged as a game-changer in this regard.
The Benefits of VoIP Phone System for Small Businesses
VoIP offers several benefits to small businesses. It's cost-effective, scalable, and offers a wide range of features. But with the market flooded with options, it's crucial to identify the best VoIP phone systems suitable for your small business.
Top VoIP Phone System for Small Business
At Axxess Telecom, we offer a wide range of the Best VoIP providers in the industry to full fill any companies need and requirements, Below we are going to explore our top picks in a VoIP phone systems that caters to the unique needs of small businesses:
1) Nextiva
Nextiva is shaping the future of growth for all businesses. Start learning how your business can take everything to the next level. Go learn. Products. Business Phone Service. Small Business Phone Service. Small Business, their full array of services and solutions provide business with more than just phone service, they provide a full on marketing and communication platform to drive growth and productivity.
2) RingCentral
RingCentral is a well-known name in the VoIP industry. It offers a comprehensive suite of communication tools, including voice, video, and messaging. Small businesses can enjoy high-quality calls, conferencing, and integrations with popular business apps.
3) Grasshopper
Grasshopper is tailored for small businesses and entrepreneurs. It's known for its simplicity and flexibility. Grasshopper provides a virtual phone system with features like call forwarding, voicemail, and custom greetings.
4) Vonage Business
Vonage Business is another VoIP solution that caters to small and medium-sized enterprises. It boasts excellent call quality, an easy setup process, and features like call recording and virtual meetings.
5) Fusion Connect
Fusion Connect is an excellent choice for small businesses. that use Microsoft Office 365, their Teams Calling platform, lets you integrate all the features and benefits of Teams and adds Calling that can save you up to 50% off your current telecom related costs, It offers advanced features like virtual receptionist, voicemail, and conference calling. Plus, it's easy to set up and manage.
6) 8×8
8×8 is a cloud-based VoIP solution that provides a range of services for small businesses. It includes unlimited calling, team messaging, and video conferencing. The system is highly scalable and adaptable.
Features to Look for in a VoIP Phone System
Most companies look for the following features when they are selecting a VoIP phone system for their small business, so consider the following essential features:
Scalability
Ensure the system can grow with your business.
Cost-effectiveness
Evaluate the total cost of ownership, including hardware and subscription fees.
Call Quality
Voice quality is paramount for successful communication.
Integration Options
Check if it can integrate with other essential software and apps.
Customer Support
Responsive and helpful customer support is vital.
How to Choose the Right VoIP Phone System
Selecting the right VoIP system involves understanding your business needs, budget, and the level of technical support required.
Axxess Telecom, is a leader provider of Business communications services and solutions for over 37 years, our expertise and extensive portfolio of solutions can help you in selecting the right system for your companies, needs and budget, set up a free call to access your needs and requirements and let us show you what we can do for your business. 
Conclusion
In conclusion, VoIP phone systems offer small businesses an affordable, feature-rich communication solution. When selecting a VoIP system, consider scalability, cost-effectiveness, call quality, integration options, and responsive customer support. Setting up and managing a VoIP system is relatively straightforward, and it can lead to increased efficiency and cost savings.